Trimble S7 1" Robotic Kit with TSC7
Trimble S7 1" with TSC7 Robotic Kit includes:
- Instrument - S7 1" Robotic, DR Plus, VISION, FineL
- TSC7 Controller-QWERTY USB Serial Boot,WW Region Stdalone
- TA General Survey
- Trimble EM120 2.4GHz Module
- TSC7 Ext Battery Charger w/ Int. Cord, Btry 2Pk
- TSC7 Pole Bracket
- TSC7 12V Vehicle Adapter
- TSC7 Soft Carry Case Shoulder Bag
Accessory Items included:
- MultiTrack Target w/7.4v batt.
- Robotic Power Kit (Power supply not included)
- Dual Battery Charger with Power Supply and Power Cord
- Tripod - Dual Clamp Tri-Max
- Pole, Robotic, 8.5', CM/.01, 135, TLV
- Bipod, Thumb-Release, 1/2-13SS Universal, FLY
ONLY AVAILABLE FOR DELIVERY IN TEXAS, OKLAHOMA AND ARIZONA.
Now you only need one instrument on the job site to perform all your data capture. Create 3D models, high accuracy visual site documentation, point clouds, and more using the Trimble S7, Trimble Access™ field software and Trimble Business Center office software.
Surveying, imaging and 3D scanning in one powerful solution

Improved Trimble VISION technology for video robotic control, scene documentation and photogrametric measurements

Trimble DR Plus for long range and superior accuracy

Complete field-to-office solution for quick data capture and processing

Seamless integrated surveying with Trimble GNSS receivers

Optional Trimble Sentinel device tracking solution
Compatible Controllers, Office Software and Field Software
Choose from a variety of Trimble controllers operating the feature rich, intuitive Trimble Access field software. Streamlined workflows guide crews through common project types, helping to get the job done faster with less distractions. Trimble Access workflows can also be customized to fit your needs.
Back in the office, trust Trimble Business Center software to help you check, process and adjust your optical, leveling, and GNSS data in one software solution. No matter what Trimble instruments you use in the field, you can trust that Trimble Business Center office software will help you generate industry-leading deliverables.
Features
The Trimble S7 is a powerful total station with all of the features and tools you need to maximize efficiency in the field and in the office:
MagDrive, for exceptional speed and accuracy, reduce wear and tear, and smooth, silent operation
FineLock, which detects targets without interference from surrounding prisms, ensuring target lock over long distances, and eliminating errors caused by interference
SurePoint, ensures precise pointing and measuring by staying on target through virtually any situation, from windy weather to vibrations
Optional Trimble Sentinel tracking technology
Industry-leading field and office software for fast data collection and processing no matter the Trimble instrument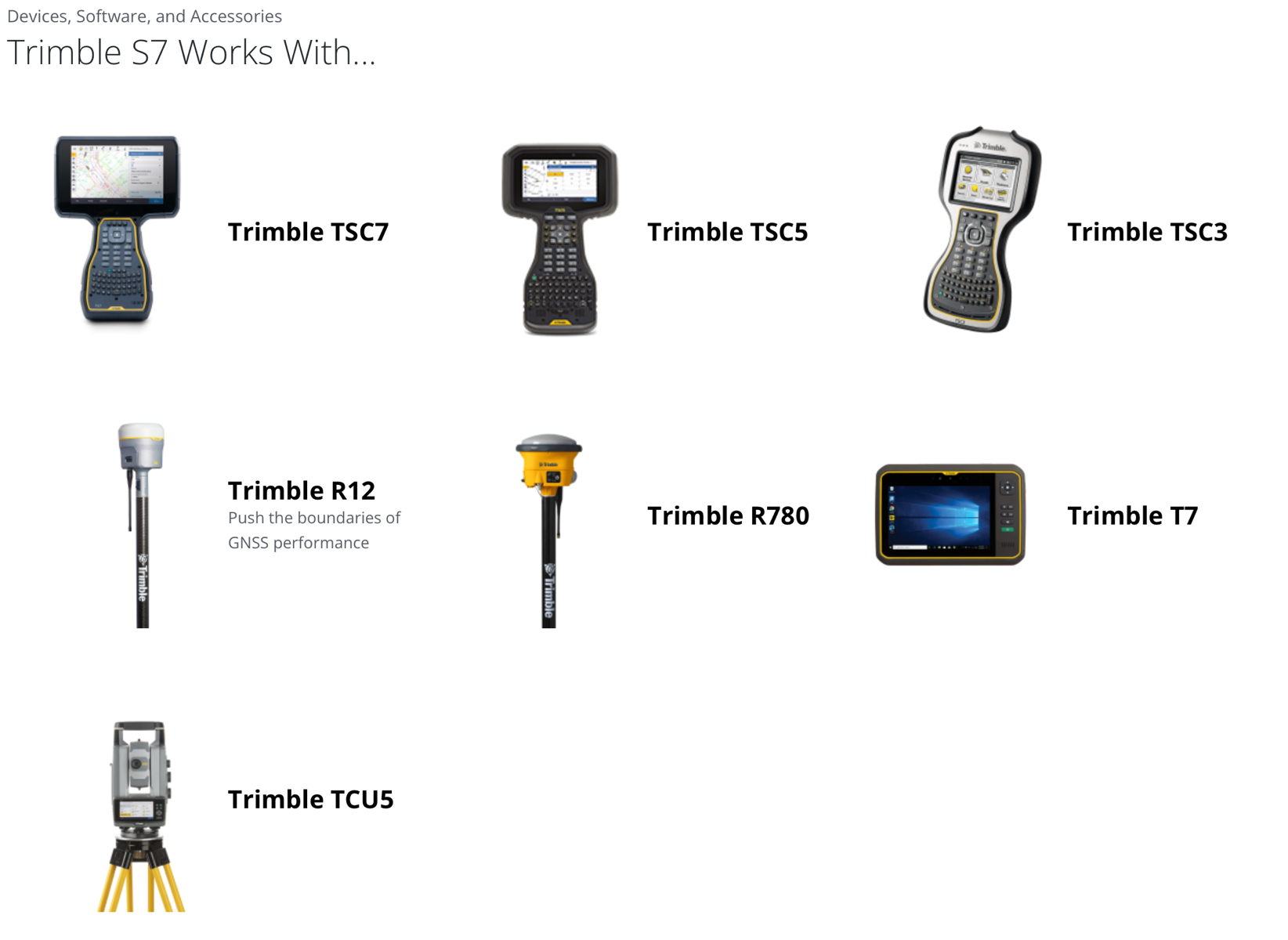 More Information

| | |
| --- | --- |
| Condition | New |